La Rochelle Estate
Country House and Spa
The La Rochelle gardens continue to amaze us with their beauty. Here pictures of the gardens and the rare and wonderful findings we see on a daily basis..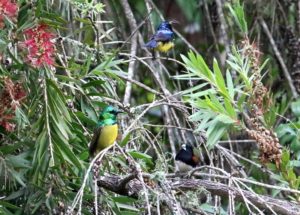 The unique Lady Virginia orchid flowered again in late 2019. The orchid was discovered by Sir Stephen Courtauld on the eastern Java Islands during his travels there sometime before the start of the second world war. There have been no others like it found in the world and so Sir Stephen named the orchid, Vanda lombakensis Virginia Courtauld after his wife Virginia.
The orchid was taken by Sir Stephen back to England where it was kept in a glass house at Eltham Palace. It flowered once then during the second world war and survived when the glass house that it was in was bombed. A small piece of the plant was recovered and re potted. It was then brought to Zimbabwe when Sir Stephen and Lady Virginia moved to La Rochelle.
This is only the fifth time that it has flowered to our knowledge, the last time being in 2016 and before that in 1973.
"Garden to plate" – we love serving our guests fresh, organic vegetables from our garden.
Our main focus for 2019 was to expand the La Rochelle vegetable garden. We are now able to feed our guests fresh, organic, homegrown goodness and we are thrilled.
Herbal Tea Tastings have become a favourite activity for guests at the hotel where they get to taste fresh, healthy, herbal teas picked straight from the organic farm.
We hope to expand this further in 2020.
La Rochelle Organics
It has been a very busy time for La Rochelle Organics and the team continues to work hard to grow organic herbs of export quality.  The work continues to grow at a rapid pace in terms of field trials, expanding storage and processing operations, number of people employed, crops planted, hectares under croppings and so on. It is amazing what has been achieved.
The total area of crops under production in 2019 totaled 12.30 ha and consisted of the following varieties:
| | |
| --- | --- |
| | |
| Crop | La Rochelle Farm |
| Calendula | 3.00ha |
| Melissa | 2.30ha |
| Peppermint | 1.20ha |
| Spearmint | 1.50ha |
| Stinging Nettle | 3.10ha |
| Forage sorghum – Compost | 1.20ha |
| Total hectares under cropping | 12.30ha |
In the picture below you can see calendula, spearmint, stinging nettles and safflower.
Crops grown commercially in 2019 include the following:
 Stinging nettle organic
Initially it took time to establish and its potential was doubted. However, over time it was realised that it is a hungry feeder with a high irrigation requirement. Consequently both nutrient availability in the soil and water/irrigation methods was improved and it has since started performing very well.
Mint organic
This type of mint is the most challenging to grow in this area. It is the most susceptible to disease and plant stress. Growth problems that we have mentioned earlier in this report and are addressing with Melissa are:
A high Nematode count in year two of growth resulting in root damage.
A secondary infection of Fuserium and
Calendula Organic             
Calendula is a good crop for our rotations. However, seed can be a challenge as we collect our own seed, and this reverts back over 2 to 3 seasons. As a result, we continually have to bring in fresh seed for planting. It also has a high labour requirement for harvesting. This next winter we will plant not only to reap petals, but also full flower heads as this is what the market is requiring.
Spearmint organic and peppermint organic
We have now been inoculating our planting material against Sclerotinia and Fusariumusing Trichoderma. We have noticed a major improvement on the disease pressure and tonnage harvested at first cut.
We have also been conducting trials on field mints provided by Martin Bauer. Samples of these have been sent and we understand that they do not fit the specific taste profile required by the customer. We are however keeping these in our parent plant stock if this should change in the future.
In addition to crop production Organic Africa has established a successful educational programme aimed at small scale farmers. The main subjects of study are ecology, sustainable farming and how to farm organically. The table below lists the training courses that were carried out in 2019:
| | | | |
| --- | --- | --- | --- |
| Date of training | Training covered | Number of people trained | Trainer |
| 24.05.19 | SOP Harvesting ,Drying and Cleaning vehicles | 25 | Kevin Martin |
| 3-4.07.19 | Mabagrown certification and organic standards | 44 | Doreen Ngwenyama |
| 16.07.19 | Spray Protocol SOP | 10 | Lindsay Reekie |
| 16-18.08.19 | Personnel Hygiene | 34 | Shingai Mabena |
| 26.08.19 | Introduction to Organic Standards | 22 | Doreen Ngwenyama |
| 12.09.19 | Fertilizer and plant protection products application | 22 | Kevin Martin |
| 13.11.19 | Toxic weeds and waste disposal | 33 | Shingai Mabena |
| 16.11.19 | Fire fighting training (Basic) | 19 | Alpha fire aid |
| 09.12.19 | Cleaning Procedures and Record Keeping |   9 | Zviko Machinga |
| 09.12.19 | Seed/seedlings traceability and record kepping |   9 | Lindsay Reekie |
Outlook at La Rochelle Organics
For 2020 we are confident to hit production targets.
Trials are still being conducted on new varieties of products as well as organic pest and disease controls. Also biofumigant green crops have been included in the rotations as well as special consideration to biodiversity in the soils and on the farms. Composting operations are planned to increase to 1500 tons this year.
We have started using the new processing machinery and previous contamination and quality problems seem to be resolved. We are also increasing our drying capacity with the increased production expected.